Curriculum
Curriculum Offer
We believe that our school has a broad and balanced curriculum which promotes the academic, personal, social and physical development of all pupils and prepares them for the opportunities, responsibilities and experiences of adult life.
For a more in-depth report on our curriculum offer, please click on the headings below.
Curriculum Statement
Intent
Students at Graveney are provided with a curriculum that is designed to both excite and inspire. Building on prior learning at KS2, we offer a rich variety of subjects across the Key Stages with a particularly strong core provision in English, Mathematics and the three Sciences. This is complemented by an extensive portfolio of humanities and arts subjects, the opportunity for all students to study up to three modern foreign languages, to choose from four different technology disciplines as well more minority/specialist subjects such as Astronomy.

We believe that all of our students can make outstanding progress regardless of their background or ability and we are proud our Public Examination outcomes and progression routes bear out that belief. We also believe in developing our pupils beyond academic success as evidenced by our wide-ranging provision of extra-curricular activities. This begins in Year 7 when all students will perform on stage, attend multiple trips to London landmarks and attend an Outward Bound expedition in Wales. As students progress through the school, these extra curricular activities continue, allowing them to extend their horizons, challenge their perceptions and build the resilience necessary to ensure that they all leave Graveney having achieved more than they thought they were capable of when they began.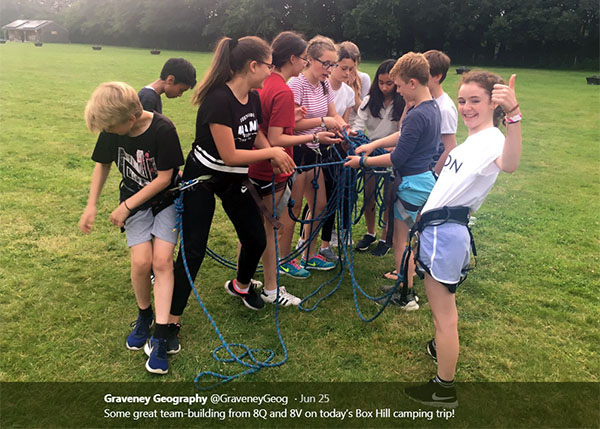 A structured tutorial programme ensures that all students understand the core values of tolerance, democracy and individual freedom tempered by a proper respect for authority and for each other. This prepares them to play their part well as thoughtful, responsible and mature members of the 'Graveney family' as well as in their wider communities outside of school.

This broad and inclusive curriculum ensures that our students are exposed to a full range of experiences that are designed to develop them into well rounded, independent and confident individuals with intellectual curiosity and an enduring love of learning.

The Graveney curriculum is taught by well qualified staff all of whom hold degrees in the subjects they teach. Their teaching practice is thus underpinned by excellent subject knowledge as well as with the skills necessary to equip students with an understanding of effective Habits of Mind.
Implementation
At Key Stage 3 we are proud that our students study a full breadth of subjects as we recognise the value of learning both academic and creative disciplines. We also believe in the importance of students studying this full range of subjects until the end of Year 9 so that they can make informed choices of their future subjects.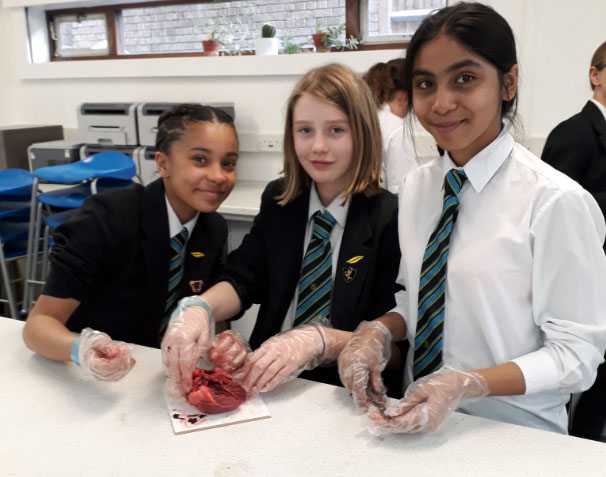 At Graveney we place students in one of 3 Bands based on academic ability – Extension, Enrichment and Endeavour, so that we can support them to make the most progress. All students follow the same curriculum content, however this is differentiated based on the needs of the students. All students have the same allocation of lessons except for pupils in the Endeavour Band who, in addition to smaller class sizes and greater teacher support, receive an extra lesson in literacy in place of 1 lesson of MFL.

When students decide on their Next Steps for Key Stage 4 they are assigned a pathway based on their academic ability. These pathways are differentiated based on the number of GCSEs they will take and the number of hours they will have studying English and Mathematics. Subjects closely follow the GCSE specifications to ensure that they achieve the best possible results at the end of Year 11.

In Year 12 students study either 3 or 4 level 3 Courses (AS-Levels or BTECs); those with a GCSE Average Points Score of at least 6 have the option to study 4. All subjects have 5 x 1 hour lessons and in addition all sixth formers participate in a pre-university programme with a wide range of components (for example economic awareness, study skills and citizenship) which enables students to focus on issues that are relevant to them.
The principles underpinning the design of our taught curriculum are detailed below:
The curriculum builds upon the teaching and learning at Key Stage 2 to ensure that there is an effective transition into Key Stage 3.
Learning in all subjects is sequenced and builds on prior learning to ensure progression.
Learning is focused on ensuring pupils learn and retain what they should know at each stage of their school career.
Subjects are viewed as individual disciplines, tailored to meet the needs of all pupils.
Subject curricula prepare students for the next phase of learning as well as inspiring their curiosity beyond this goal and developing their love of learning.
Subjects have defined a specific body of knowledge that all students should know and understand to ensure that they have the fundamental knowledge to enable them to progress.
Students are assessed regularly in many formats (summative and formative) and this helps the teacher to shape future learning and inform reports which we regularly send home.
An extensive programme of trips support the taught curriculum as well as other learning events (e.g. lectures, workshops, presentations, careers events)
All students are expected to participate in our comprehensive outdoor education programme which ranges from a Year 7 Outward Bound residential to expeditions on the Gold Duke of Edinburgh Award in Year 13.
Tutor time and assemblies are used to reinforce the curriculum by embedding the key values of tolerance, democracy and individual freedom tempered by a proper respect for authority and for each other, to ensure that they can play their part fully and well both within the 'Graveney family' and in the wider community.
Personal, Social, Health and Economic (PSHE) education is taught discretely to ensure that all students receive a full programme which enables them to develop fully as individuals and as members of families and social and economic communities.


An overview of each subject curriculum is shared on the school website to enable parents and carers to understand the content and support the learning of our students.
Impact
Evidence of our success can be seen in our consistently outstanding public examination results. Our Progress 8 scores have always been significantly positive (see exam results page for more information) with our best ever (+0.51) achieved in 2019. In particular we are proud that outstanding progress is made by all types of students. In our most recent examination results (2019) all groups, whether defined by ability, ethnicity, gender or SEN, made positive progress. These results demonstrate our commitment to a fully inclusive approach to all aspects of the school curriculum so that all students can make outstanding progress at Graveney.
We also ensure that every student that completes their GCSEs at Graveney has a suitable progression route into post-16 education. The vast majority of students choose to stay on into Graveney's sixth form although there are always some for whom it is not an appropriate choice. However we're proud of the service we provide to students to help them make post-16 choices that are most appropriate to them.
At A level our students achieve consistently high value added scores producing a progress measure for the school of ALPS 3, which puts Graveney in the top 25% of schools for progress. Given the comprehensive nature of the entry requirements for post-16 study we can be confident that our KS5 curriculum and the way that it is being delivered is having a significantly positive impact. Progression routes for our students are excellent with the vast majority of students obtaining places at their first choice university and almost half of those at Russell Group institutions.

At Graveney we don't just secure outstanding outcomes and destinations for our students; we also ensure that they develop all of their skills and potential and have a love for learning gained from their extra-curricular activities. Evidence of this can be seen through from:
The very positive feedback from students and parents of the Year 7 Outward Bound residential trip.
Participation and completion of the Duke of Edinburgh Award – Graveney is the largest school based DofE centre in London with completion rates that far exceed most other centres.
Feedback from students and their parents on the very wide range of trips that support their subject based learning.
The very high participation rates in extra-curricular activities throughout the school including choirs, ensembles and bands, sports clubs, drama productions, STEM clubs, poetry competitions, debating etc.
The high profile external activities that our musicians are able to participate in as a result of their commitment, skill and enthusiasm including for example performing at the Royal Festival Hall and working with prestigious organisation such as the Royal Philharmonic Orchestra and the National Opera Studio and performing for the Mayor of London and at St Paul's cathedral.
In sport the same exceptional outcomes can also be seen in the success of our students when representing the school both regionally and nationally in a wide range of events and competitions, their experience over the last 10 years as successful Wimbledon Ball boys and girls as well as the two alumni Olympic medallists.
Participation in University level STEM Research projects in Gene Therapy and Ionic Liquids in partnership with UCL.
Attendance at an extensive programme of guest lectures.
The volume of students choosing to study additional subjects at GCSE level outside the school day in subject areas such as Languages, Computing, Additional Maths & Astronomy and their outcomes in those subjects
At Graveney we are never complacent and our comprehensive self-evaluation process ensures that we are always looking at ways to improve to ensure that our students continue to flourish.
Key Stage 3
Pupils at Key Stage 3 study a wide curriculum designed to offer engagement and enrichment as well as providing a solid foundation for later success in public examinations.
Pupils are taught in broadly banded tutor groups for most subjects but there is further setting in Maths from year 8 onwards. All the tutor groups follow the same curriculum, although some may move faster than others, so there is no ceiling on potential achievement.
All pupils have access to a range of further opportunities including twilight lessons in additional subjects, day trips, school journeys and extra-curricular clubs and societies.
Curriculum Overview
For more detail about individual subjects please follow the links in your son/daughter's year group:
Year 7
Year 8
Year 9
Key Stage 4
All Key Stage 4 pupils follow a course leading to public examinations [GCSE or BTEC] in a range of subjects, including a minimum core of English, Maths Science and RS as well as non examination courses in PE, PSHE and Citizenship.
A large majority also study a modern foreign language, and most take either history or geography, giving them the complete range of EBACC subjects.
Pupils follow one of three pathways leading to between 8 and 11 examination subjects, so there is some banding and fine setting in the core. Optional subjects run across the entire year group and may be completely mixed in ability.
For further details of these arrangements and of the courses followed in each subject please click the links below:
Graveney has a large academic sixth form where most students study 3 or 4 level three courses [A level, AS level and BTEC National level 3].
Any student who has not yet achieved grade C in English or Maths will also study for GCSE in these subjects. The Sixth Form Prospectus with more details of the courses available can be found in the Sixth Form section of this website.